Pre Admission Conference/TEAS Schedule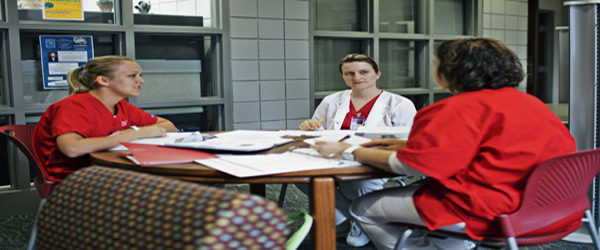 The purpose of these conferences is to familiarize prospective students with all information relating to prerequisites and admission requirements. Pre Admission Conferences are mandatory, either live or online, for acceptance into the program.

Nursing Admissions Deadline for Fall 2018 - March 1, 2018
Spring 2018 Nursing Program Admission Conference:
For your convenience, Pre Admission Conferences may now be viewed online. Please find the Data Report Form (your official application) at the end of the presentation.
Need to watch it on a mobile device? You can always watch the video on YouTube here:
*Note you cannot download the Data Report Form from the YouTube Video. You will need to open the PowerPoint to complete this.
IMPORTANT: After opening the Pre Admission Conference link you may need to press F5 in order to hear the talking Power Point. If you do not have PowerPoint, please download PowerPoint Viewer.
What is the ATI TEAS Assessment?
The ATI TEAS (Test of Essential Academic Skills) Assessment is a 170 question, time limited, multiple choice, proctored assessment designed to test basic knowledge in reading, mathematics, science and English and language usage.
How can I prepare for the assessment?
ATI TEAS Study Guides may be checked out from the OCTC Library on the main campus on a one (1) week loan. There are also ATI TEAS Study Guides in the library at the Downtown Campus.
May I use a calculator?
Calculators are allowed. Calculators are embedded in the online version and will be provided by testing center.
How do I register to take the ATI TEAS Assessment?
Simply call Workforce Solutions at 270.686.4444.
Where and when is it available?
The ATI TEAS Assessment will be administered at the OCTC Downtown Campus located at 1501 Frederica Street. *Room numbers are subject to change.
How much will it cost?
ATI TEAS Assessment fee: $70
What should I bring?
Please bring a photo ID and student ID number to the testing site.
How do I get my score s to the OCTC Nursing Department?
If you take the TEAS at OCTC, you will not need to do anything. We will pull those scores from atitesting.com and enter them in PeopleSoft (the KCTS student records system).
How can I send a copy of my TEAS score/TEAS transcript to the OCTC Nursing Department?
If you tested at another KCTCS institution you may be able to have someone at that campus enter your scores into PeopleSoft. If not, you must go to ATI's online store at atitesting.com and select TEAS Products/TEAS Discover Transcripts. There is a $27 charge. Transcripts are sent immediately by email. A paper copy from the student is not accepted.
Can I retake the ATI TEAS assessment?
The ATI TEAS assessment may be taken a maximum of 3 times per year with a 4 week wait period between attempts.
For more information on the ATI TEAS Assessment as well as information on purchasing a study guide and online practice tests, please visit www.atitesting.com, or contact teresa.hamilton@kctcs.edu.