OCTC-ADN
THE NEXT ADMISSION CLASS WILL BE

Spring 2022

The deadline for admission will be September 1st, 2021.
ASSOCIATE DEGREE NURSING PROGRAM (ADN)
Graduates of the ADN program are prepared to provide and manage client care within a variety of clinical settings including, but not limited to, hospitals, doctors offices, urgent care facilities, nursing homes and outpatient and inpatient care settings.
Learning takes place utilizing a multitude of diverse didactic techniques including on campus lecture, live video streaming, pod casting, Blackboard learning tools, state of the art simulation laboratory technology and off site clinical experiences, all of which prepare our graduates to meet the needs of a diverse client population.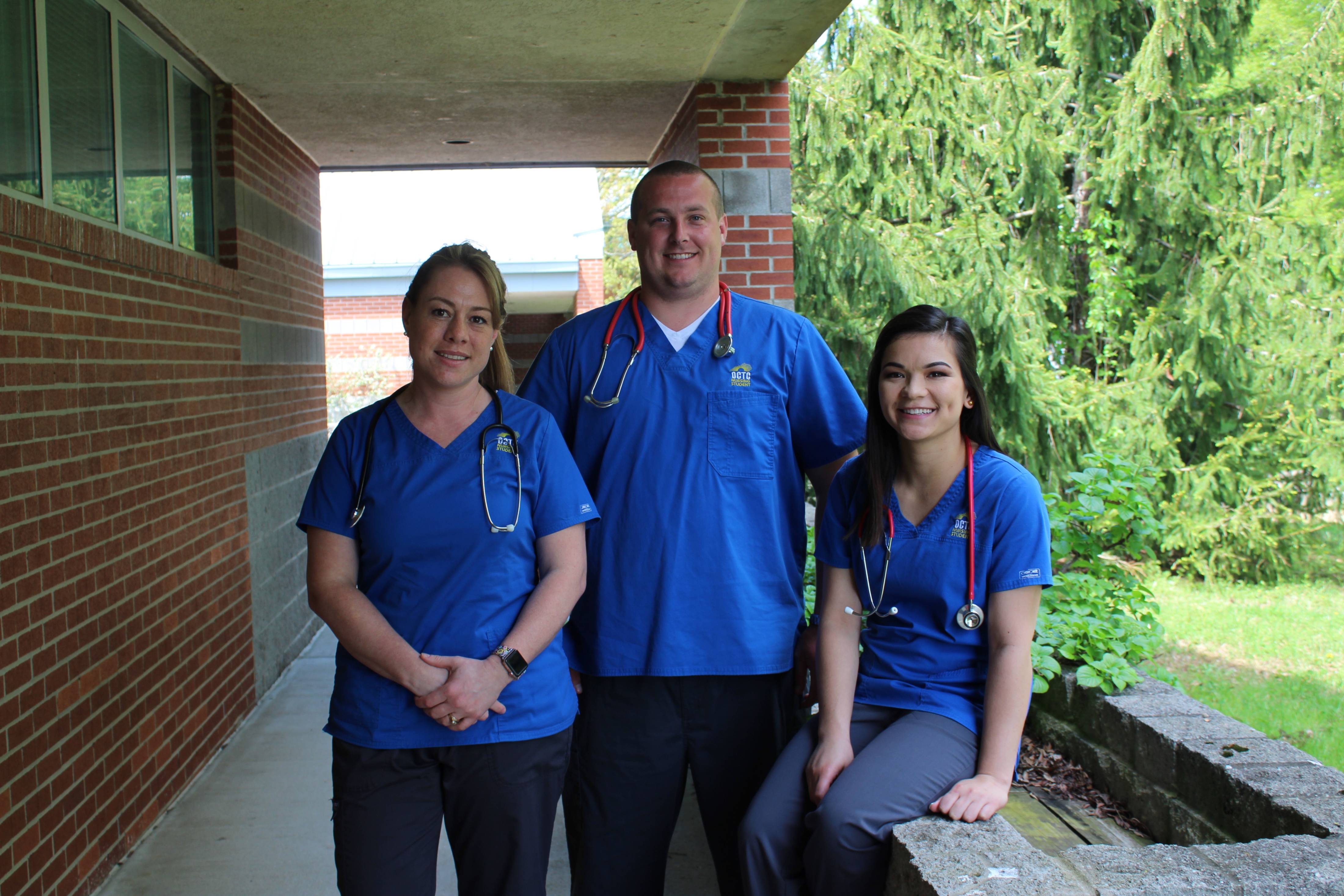 The OCTC ADN program accepts students biannually - once in the Fall semester (August) and once in the Spring semester (January). The application deadline for the Fall semester is March 1st and for the Spring Semester it is September 1st.
Before the semester begins a Nursing Student Orientation will be scheduled. Attendance is mandatory to continue enrollment in the nursing program.
MINIMUM REQUIREMENTS FOR CONSIDERATION
A. Prior to Admission Deadline (Required)
Apply for admission to OCTC if you are not currently in a KCTCS institution and declare major as Associate in Science with

Nursing/OWRN

as student group.
View online the Pre Admission Conferences

and submit the Data Report Form (official application) by application deadline of March 1st for Fall Admission.


Completed Data Report Forms may be turned into the Nursing Department in the Academic Building on OCTC's Main Campus, either by hand delivery, by mail (4800 New Hartford Rd. Owensboro, KY 42303 Nursing Department) or e-mail (lori.donahoo@kctcs.edu and nancy.wilson@kctcs.edu)

Submit via mail Official

transcripts from universities/colleges other than KCTCS to OCTC Office of the Registrar
Earn a minimum 2.75 Nursing GPA (Nursing GPA is determined by grades in ENG 101, MAT 150, Heritage/Humanities, PSY 110, BIO 137, BIO 139 and BIO 225. *Nursing GPA scores below 2.75 will not be considered for admission.

Meet one (1) of the two (2) criteria listed below:

Score an ACT

composite of 20 or above. Official scores must be sent from OCTC or already be on file.
Score "proficient" (58.7%) or higher on the Assessment (TEAS V or ATI TEAS).
Extra points may be awarded to applicants demonstrating proof of a prior Allied Health Degree involving direct patient care AND actively employed in that field for 12 of the past 36 months. (Allied Health Degrees do not include SRNA Certificates. Examples of Allied Health Degrees include Paramedic, Radiology or Surgical Technicians).
Submit an official transcript verifying degree completion to the Office of the Registrar.
Submit a letter from employer documenting verification of employment dates to the Director of Nursing at

lori.donahoo@kctcs.edu.
B. Prior to First Day of Nursing Class (Required)
Complete BIO 137, MAT 150 (or higher), and PSY 110 with a grade of "C" or higher in the math and science courses. Science courses must be completed within 5 years of the first nursing course (NSG 101).

Obtain "Active Status" on Kentucky Nurse Aide Registry. Go to the

Kentucky Board​ of Nursing website to check status.

If you have never been a nurse aid, you may be trained at a local health care facility (that is approved for students to complete state exam) or take NAA 100 at any KCTCS institution and pass the state board exam to become a registered nurse aide. To register for NAA 100 (Nurse Aide) enroll at the Start Center by calling

270-686-4473.

Obtain BLS certification - Health Care Provider with AED training (American Heart Association or American Red Cross).

Attend a mandatory orientation day in August before your nursing classes begin. Date and times vary each semester.
READMISSION
Complete this form and email it to lori.donahoo@kctcs.edu and nancy.wilson@kctcs.edu
THINGS TO KNOW
All communication will be through the KCTCS student email. Students are responsible for checking their KCTCS student email account throughout the entire admission process
To schedule your TEAS exam, contact WorkforceSolutions at (270) 686-4444. TEAS exam requires a photo ID and your KCTCS Student ID number. For more information on the TEAS, visit the TEAS Information and Test Dates page.
The Kentucky Board of Nursing (KBN) reserves the right to deny, limit, revoke, probate, suspend or take other action against an applicant or licensee with criminal convictions that bear directly on an individuals qualifications or ability to practice nursing. For more information and to visit the

KBN's website.
Price estimates are available here.