Campuses
Three convenient locations in the greater Owensboro area.
Owensboro Community and Technical College offers classes on all campuses and at convenient locations in the surrounding counties and at select off-campus locations in Daviess County as needed. Please check your schedule to avoid confusion on the first day of classes.
Main Campus
The Main Campus is located at 4800 New Hartford Road. There are two points of access on the main campus: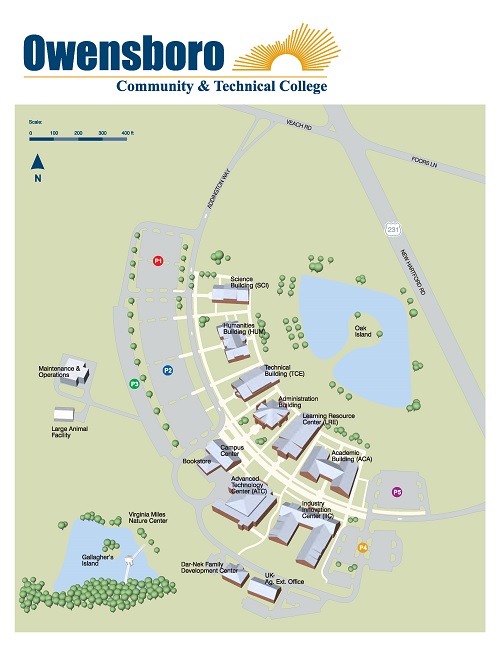 The entrance on Hwy. 231, across from DeerPark elementary has a convenient stop light and provides direct access to the Allied Health building, the Learning Resource building, and the Advanced Technology Center (Conference Room, Addington Seminar Room). This entrance is also close to our campus partners: the UK Daviess County Ag Extension offices and the Dar-Nek Family Development Center, a daycare center under Audubon Area.Our qualified students are granted preferred placement in the daycare center as part of this partnership.
The Veach Road entrance provides direct access to the Science building, Humanities building (Blandford Lecture Hall), the Technology building, the Administration building, and the Campus Center. All buildings are accessible from either entrance.


Downtown Campus

The Downtown Campus is located at 1501 Frederica Street, in the heart of Owensboro. The campus is accessible from Frederica or from Daviess Street.Regular college classes are held on this campus,and itis home to the Workforce Solutions division, the Adult Education program, Workforce Testing,OC-TV Owensboro Community Television (broadcast on Owensboro cable channel 71) and a visual arts lab.
Downtown Campus Map.
Southeastern Campus

The Southeastern Campus is located at 1901 Southeastern Parkway, behind Daviess County High School. This campus is utilized for regular college classes and is also home to Welding, Automotive Technology, Collision Repair Technology, Agriculture Studies, Diesel Technology, and the Health Care Facilities Leadership programs. The Human Resources Department is also located at this campus.
Southeastern Campus Map.
Centre for Business and Research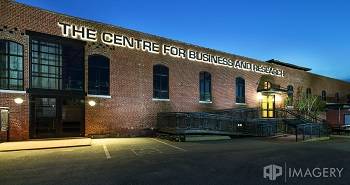 The Centre for Business and Research is located at 1010 Allen Street, Owensboro, Kentucky. The Centre is a business accelerator and research facility that meets the growing demand for lab, research and office space for startups in Owensboro. In partnership with the Owensboro Economic Development Corporation, Owensboro Community and Technical College is utilizing a portion of this facility to offer specialized industry training and dual credit courses.
Hancock County Center and Annex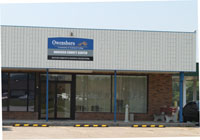 The Hancock County Center and Annex are located at 8010 HWY 60 West, in Lewisport. The Center is used to meet regional workforce, industry, and secondary partners needs for education and training.The Annex is used as a welding lab. Both facilities are collaborative and supported by the City of Lewisport, Hancock County and Hancock County Schools.
Ohio County Area Technology Center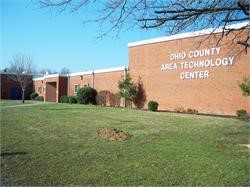 The Ohio County Area Technology Center is located at 1406 S Main Street in Hartford. OCTC collaborates with Ohio County Schools to provide dual credit opportunities to secondary students at this instructional site in the areas of Automotive Technology, Computer and Information Technologies, Computerized Manufacturing and Machining, and Electrical Technology.
For FAQ about OCTC Extended Campus.