Fire/Rescue Science Technology
Stop, drop, roll and get ready to meet the challenges of being an emergency responder.
Program Contact
Jimmy VanCleve, AS
Program Coordinator
(270) 273-3187
GET STARTED TODAY (270) 686-4400
What is Fire/Rescue Science Technology?
Firefighters and emergency rescue responders are ready to risk their lives for others every day. Do you have what it takes? OCTC's Fire & Rescue Science Technology program can prepare you for the many challenges you will face as a first responder in this rewarding field. The program includes courses in fire prevention, suppression, technical rescue, emergency medical care, and much more. Our students benefit from excellent instruction as well as hands-on activities. This program is designed for those hoping to start a career in emergency services as well as those who are working in the field and want to upgrade their skills.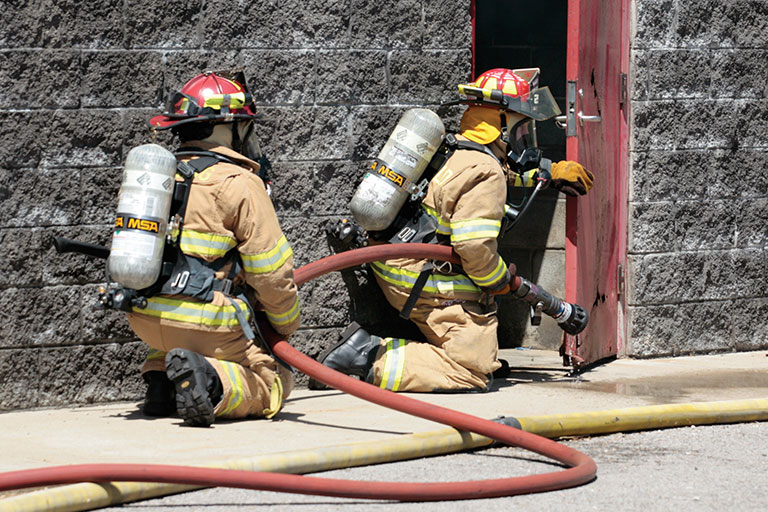 Getting Started
What are my degree, diploma, and certificate options?
How Do I Pay For This?
Worry no more. With the lowest tuition in Kentucky, financial aid options, and a helping hand to guide you through the application process, OCTC has you covered. OCTC will help you reach your goals at a price that won't break the bank.
What Else Do I Need to Know?
Accreditation
The International Fire Service Accreditation Congress (IFSAC) is a peer driven, self-governing system that accredits both public fire service certification programs and higher education fire-related degree programs.
Accreditation ensures consistent training and testing of the firefighters and emergency responders who protect the citizens of the Commonwealth.
The Kentucky Fire Commission/State Fire Rescue Training is proud to have obtained certifications by both the IFSAC Certificate Assembly and the Degree Assembly.
The IFSAC Degree Assembly accredits fire science or related academic programs at colleges and universities. An IFSAC accredited program indicates that course offerings, institutional support and qualified faculty are working together in completing their educational mission.
SFRT personnel are active on IFSAC Boards and Committees as well as serving as site team members for site visits in other states.
Length of Program
You can earn an associate in applied science degree in two years if you maintain full-time status.
This information should not be considered a substitute for the KCTCS Catalog. You should always choose classes in collaboration with your faculty advisor to ensure that you meet all degree requirements.