Surgical Technology
Support doctors and other medical professionals as an operating room technician.
Program Contact
Zara Basham, CST
Program Coordinator
(270) 686-4650
GET STARTED TODAY (270) 686-4400
What is Surgical Technology?
Surgical technologists, also called operating room scrub nurses, assist in surgical operations. They work as members of a healthcare team alongside physicians and surgeons, registered nurses, and other healthcare workers. Surgical technologists prepare operating rooms, instrumentation, medications, and equipment to help doctors before, during, and after surgeries.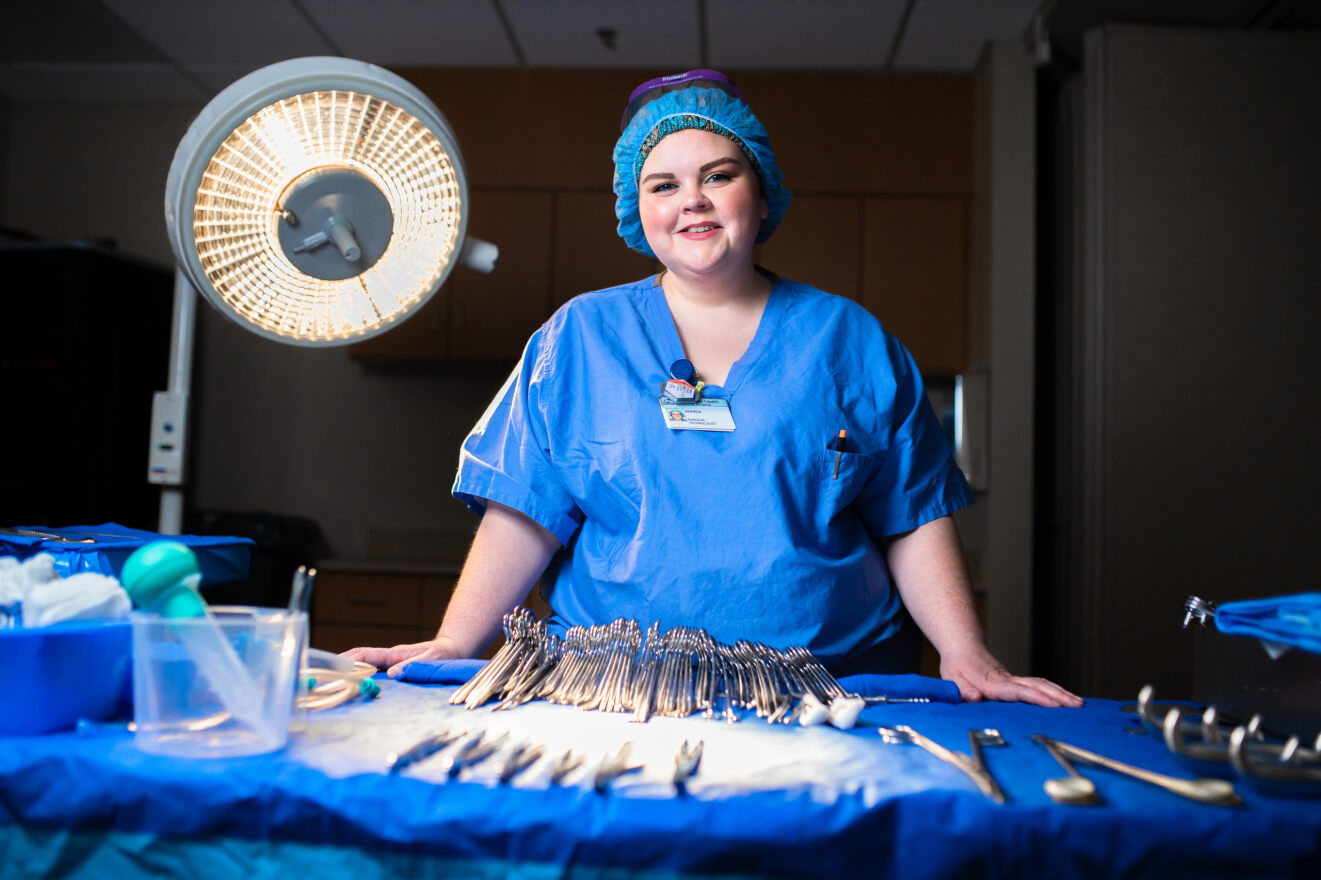 Getting Started
What are my degree, diploma, and certificate options?
How Do I Pay For This?
Worry no more. With the lowest tuition in Kentucky, financial aid options, and a helping hand to guide you through the application process, OCTC has you covered. OCTC will help you reach your goals at a price that won't break the bank.
Admission Requirements
This year's Surgical Technology Pre-Admission Conferences will be held remotely. The deadline to apply is May 1. Accommodations will be made to those with technology challenges. For more information please contact the Program Coordinator at zara.basham@kctcs.edu.
Apply for admissions to Owensboro Community and Technical College (OCTC) if not currently enrolled in a KCTCS college.
Submit all requested documents as outlined in the Pre-Admission Conference/Open House by May 1st.
Consult OCTC for general admission requirements.
Consult KCTCS Senate Rules for system guidelines.
Candidates must complete all courses for the Surgical Technology Program with a minimum grade of a "C". This includes all prerequisite courses.
Additional requirements: ST Program Admission Guidelines.
Note: CPR for Healthcare Provider with AED training course must be obtained prior to enrolling in the first Surgical Technology practicum course and certification must be kept current throughout the Program.
The Surgical Technology program is a selective admissions program that is professionally accredited. The program prepares you to be part of a team of medical practitioners providing surgical care to patients in a variety of settings. The program provides clinical experience that builds on classroom instruction in science, patient care, aseptic techniques, and surgical procedures. Students who complete the program are eligible to take the certifying exam offered by the National Board Certification for Surgical Technology and Surgical Assisting. Use the contact info on this page to learn more.
What Else Do I Need to Know?
Accreditation
The Owensboro Community and Technical College Surgical Technology Program is accredited by the Commission on Accreditation of Allied Health Ed. Programs (CAAHEP)
Certification Pass Rates
Outcomes Assessment Exam (OAE) first-time pass rate for the class of:
2022-2023 - 100%
2021-2022 - 67% (overall 100%)
2013-2021 - was 100%
Length of Program
You can earn an associate in applied science degree in two years if you maintain full-time status.
This information should not be considered a substitute for the KCTCS Catalog. You should always choose classes in collaboration with your faculty advisor to ensure that you meet all degree requirements.