Meet Our Students
Tyler Ashton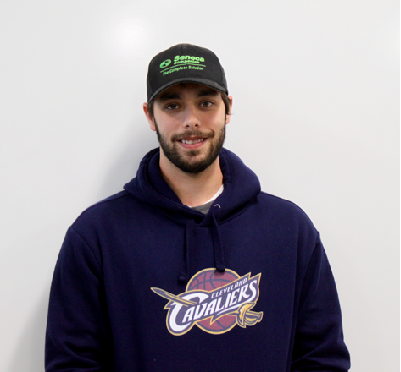 Student Tyler Ashton believes the opportunities he's been given at Owensboro Community & Technical College have removed the ceiling from his future. He says, "Without an education there's a ceiling. With an education, you can do anything." Tyler will graduate this spring with an Associate in Applied Science in Advance Manufacturing Technology degree. He is currently part of the GO FAME program, a work and learn model where students earn a college degree while working at a sponsor company. Tyler is employed at OMICO Plastics of Owensboro, a sponsor company of the GO FAME program, and plans to pursue a degree in engineering after he graduates from OCTC. Ashton credits his instructors, Katie Vincent, of OCTC's Workforce Solutions, and OMICO Plastics Vice President and GO FAME President, William K. Mounts, for helping him succeed. Tyler was working for a local construction company when he decided to apply for the GO FAME program and begin his journey at OCTC. He says "at the end of the day an education will get me further than just working."

Tyler is also a part of a group of students that are competing in the NASA Rover Challenge in Huntsville, Alabama this spring. At this engineering design competition students build a human-powered rover that travels over a half-mile obstacle course simulating planets, moons, asteroids, and comets. The OCTC team will be the only community college to participate in the event this year, and is comprised of students Tyler Ashton, Leah Cravens, Sean Dysinger, Corey Marchand, and Amanda Snyder. Lead by OCTC faculty member Shawn Payne, the team will participate in the event from March 30 – April 1. Payne says, "This will not only be a great experience for them, but something they can add to their résumé when they leave the college and join the workforce." The students have eight weeks to complete the construction of the rover and look forward to competing in the challenge.

Hear Tyler talk about how grateful he is for the support he's received from OCTC, GO FAME, and OMICO Plastics. #octcproud
Aliyah Burden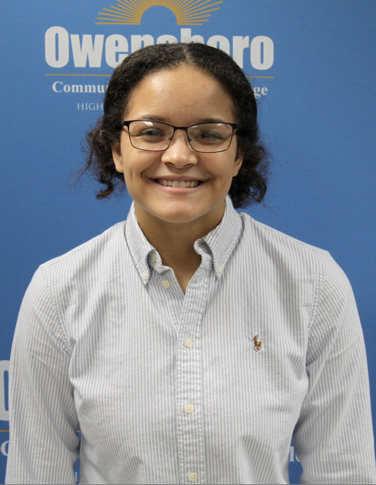 This spring, at the age of 18, the inspiring Aliyah Burden is on track to earn a high school diploma from Owensboro High School and an Associate in Science degree from Owensboro Community & Technical College. Aliyah is part of the Early College program, in which high school students attend college classes full-time, with the goal of earning an associate degree and a high school diploma simultaneously. A first-generation college student, Aliyah participates in OCTC's TRiO program.

Aliyah faced many obstacles and hardships during her first year as a college student, including a lack of transportation and a lack of internet to complete her coursework. A resourceful young lady, Aliyah did not let those barriers prevent her from doing well in her classes. She used the Owensboro Transit System for transportation and spent many nights in local libraries studying and doing homework. Like many of OCTC students, Aliyah needed a job to support herself. After completing Nurse Aide courses, Aliyah got a job with a local nursing home at the age of 17. She now works as a CNA and as a Peer Coach for OCTC's TRiO Student Support Services program while attending college full-time. She is also very active on campus as a member of the Student Government Association, the Multicultural/Diversity club, and OCTC's Student Board of Appeals.

TRiO Student Support Services offers academic and personal support for first-generation college students, low-income students, and students with disabilities. Aliyah values the help she has received from OCTC and believes without the assistance of TRiO Director Jessica Cecil, and Director of the Office of Diversity, Lewatis McNeal, she would not be as successful in obtaining her goals. Aliyah plans to attend the University of Kentucky and later become a Cosmetic Surgeon. She has worked hard to achieve her goals and is well on her way to a prosperous future.

Hear Aliyah's emotional journey in her own words.
Mac Grieser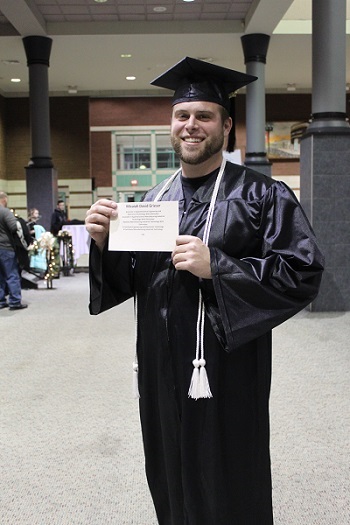 Owensboro Community and Technical College (OCTC) alum Micaiah Grieser (Mac) was employed as a team leader at a local manufacturing facility when he made the decision to pursue a degree in a trade that would lead him to a rewarding career and ultimately change his lifestyle.

Mac faced many personal obstacles while pursuing his education, including lack of reliable transportation. As a determined student, he remained goal oriented and did not give up on himself or his goals. His dedication and drive placed him on the Dean's list during the Fall 2016 and Spring 2017 semesters. Mac graduated in December 2017, earning an Associate in Applied Science in Engineering & Electronics Technology degree, an Associate in Applied Science in Electrical Technology degree, an Electrical Technology Diploma, and several Electrical and Electronics certificates.

While attending OCTC, Mac was part of a team working to repair an electron microscope that was previously donated to the Science Department at OCTC by the University of Southern Indiana. Professor of Biology and Faculty Advisor for OCTC's Phi Theta Kappa chapter, Dr. Timothy Dick, enlisted the help of Marty Higdon, fellow instructor and Assistant Professor of Electrical Technology, to troubleshoot the microscope. Marty turned the task into an opportunity for his students to hone their skillset and gain real world experience.

Mac used the unique experience and valuable knowledge he gained in his OCTC classes to assist him in landing an internship during the summer of 2017 with GE Healthcare as a Field Service Engineer, learning how to repair and maintain life-saving medical equipment such as x-ray and radiography equipment. Mac graduated from OCTC on December 15, 2017 and started a full-time position with GE Healthcare on December 18, 2017.