Common Reading
OCTC COMMON READING
For more information about this book and related content, see the InfoGuide.

Spring 2023: Join us as we read The Music of Bees by Eileen Garvin.
The author visit and all related events are free and open to the campus and community. Some events may be virtual; please see OCTC Common Reading on Facebook for updates and reminders. The author plans to visit OCTC on Tuesday, March 28, 2023 at 12:30 p.m., in Blandford Hall (Humanities building) for a keynote reading and book signing. Other presentations are in progress.
FACEBOOK: To get the most recent updates, pictures, and events through Facebook, please like us on Facebook. Everyone is welcome (you don't have to have a Facebook page to view the page): OCTC Common Reading Facebook
Thank you: Special thanks to the many area donors who are helping us make the Common Reading and other campus initiatives more lasting and vital parts of our community through the NEH Grant efforts.
Note: Often the Common Reading's subject matter is quite complex. An attempt will be made to include a variety of perspectives on related themes or topics. The choice of book and supporting activities or materials are not intended as an endorsement of any particular viewpoint. If you have suggestions for resources or activities, please let our committee know. Thanks!

Any views, findings, conclusions or recommendations expressed in this website do not necessarily represent those of the National Endowment for the Humanities.
LIBRARY DISPLAY: Each semester the OCTC main campus Library (LRC/LRE building) has a display of materials related to the book, writer, and theme of each Common Reading. Check it out!
LEND & LEAVE BOOKSHELF: In the LRC, upstairs near the art gallery, is a display of books that you may take and keep, take and pass on, or take and return. You may also bring some used books to leave for others.
MISSION STATEMENT: What is the Common Reading?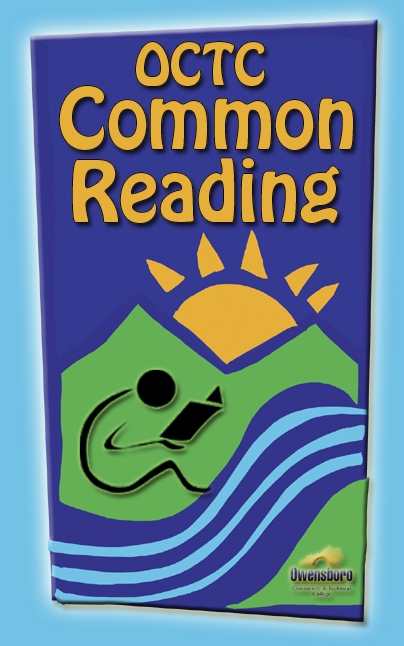 Each semester a book is selected as OCTCs Common Reading, with the idea that all participants could read the same material and have common ground for new discussions and mutual interests. While the book choices vary in many ways (different genres, time-periods, subject matters) they are chosen with the intention of expanding the knowledge and perspectives of readers. The background of the selected writers is diverse; however, many Kentucky and regional writers are also included in order to help us appreciate local talent, acknowledge shared concerns, and celebrate our common heritage. All OCTC students, staff, faculty, and interested community members are invited and encouraged to participate by reading the books and attending the related presentations each semester.