What Is Nursing?
Nursing is one of the most exciting and vital careers in today's economy. If you are interested in helping people a nursing career might be for you! OCTC's Associate Degree Nursing program (ADN) graduates are ready to provide the highest quality care.
The ADN program prepares graduates to take the National Council Licensure Exam – Registered Nurse (NCLEX-RN). In order to become a Registered Nurse (RN) students must pass the NCLEX-RN and gain licensure from a state Board of Nursing.
We offer two program options. Our traditional ADN Program enables State Registered Nursing Assistants (SRNAs) to become RNs. We also have an option that enables current Licensed Practical Nurses (LPNs) to complete an ADN to become an RN.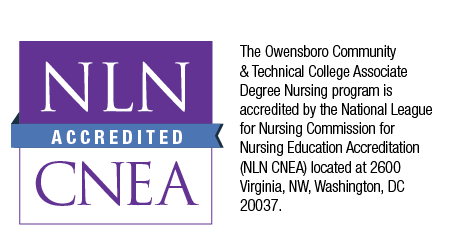 OCTC's ADN program is accredited by the National League of Nursing (NLN) Commission for Nursing Education Accreditation (CNEA), and approved by the Kentucky Board of Nursing (KBN).
OCTC ADN Program Mission Statement
The mission of the OCTC ADN Program is in accord with the Mission Statement and Core Principles of OCTC and supports the core values of the National League of Nursing of Caring, Integrity, Diversity and Excellence. The primary aim of the program is to prepare entry-level registered nurses as providers of care across the health/illness continuum to a culturally diverse population in a variety of healthcare settings.
These core beliefs enable the OCTC Associate Degree Nursing program to prepare nurses to:
collaborate with other members of the healthcare team
be effective communicators
demonstrate leadership
commit to life-long learning
think critically
promote health and the quality of health care
What are my career choices?
There are many job opportunities as a Registered Nurse that include, but are not limited to, hospitals, long-term care facilities, clinics, child care centers, educational facilities, physician's offices.
In addition job opportunities for Register Nurses include:
Industry
Informatics
Camp Counselors
Crisis/Prison Facilities
Legal/Forensic Counselor
Faith/Missionary Communities
Transplant/Genetic Agencies
Insurance/Research Companies
What are my degree, diploma, or certificate options?
For most students, it will take a minimum of five (5) semesters to complete an Associate in Applied Science Nursing Degree.
Nursing Admission Criteria
THINGS TO KNOW
All communication will be through the KCTCS student email. Students are responsible for checking their KCTCS student email account throughout the entire admission process.
To schedule your TEAS exam, contact WorkforceSolutions at (270) 686-4444. TEAS exam requires a photo ID and your KCTCS Student ID number. For more information on the TEAS, visit the TEAS Information and Test Dates page.
The Kentucky Board of Nursing (KBN) reserves the right to deny, limit, revoke, probate, suspend or take other action against an applicant or licensee with criminal convictions that bear directly on an individuals qualifications or ability to practice nursing. For more information and to visit the KBN's website.
Currently enrolled nursing students can locate the Nursing Student Handbook in BlackBoard. An electronic copy of the Nursing Student Handbook is available to others by request.
Estimated Costs
This is an estimate only. Prices are subject to change. These estimates do not include general education nor prerequisite courses, nor nurse aide training.
Transfer Equivalencies
Kentucky Public Colleges/Universities
The KnowHow2Go Kentucky website has information for all Kentuckians who want to get a college degree.
Transferring Your Credits From KCTCS
Looking to transfer your KCTCS credits? The KnowHow2Transfer website has all the information you need to make sure the credit you earn at KCTCS will count toward a bachelor's degree at one of Kentucky's public four year universities.